Marissa Lee Benedict and David Rueter, untitled (waterbottles 2.1 – 2.3), 2018–present,
custom blown 3-gallon PET water bottle preforms, water, hose clamps, lids.




Repose

2020
Marissa Lee Benedict, Daniel de Paula and
David Rueter
; comissioned by
The Arts Club of Chicago.
CNCed and laminated baltic birch plywood and insulation foam, pine, steel.
Fabricated by
Navillus WoodWorks
and supported by a grant from the Terra Foundation for American Art.
---
A long-form conversation about the work at The Arts Club of Chicago can be found here
.
---
At first glance,
Repose
presents itself as enigmatic: the arranged fragments a custom wooden shipping crate for a large, missing object. The absent object, the peculiar nature of its suspension and rotation, and the sliced openings built to cushion and support a buoyed mass, flip in and out of focus.
The engineered wooden strata of the precisely cut angular packing materials describe dueling geometries. Some of the slices are capable of being drawn by hand; others are only conceivable through digital rendering software. At play are looping continuities between modernist negation and global logistics. Cuts made by Gordon Matta-Clark in 1978 for the MCA Chicago commissioned work
Circus or the Caribbean Orange,
temporarily installed just a few doors east of the Arts Club on Ontario Street, echo through the garden. The sculptural tradition of the negative object ("not-landscape," "not-architecture") here become colonized by histories of logistics, capital and flow that, again, stall out – like "…a kind of black hole in the space of consciousness." [1]
--
In 2018, a chance series of communications, buoyed by the generosity of a community of Chicago artists, led artists Daniel de Paula, Marissa Lee Benedict, and David Rueter to salvage and acquire the last remaining commodities futures trading "pit" floor from the Chicago Board of Trade. The 40-foot-diameter, octagonal, seven-tiered corn and soy pits, in operation since the late 19th century, were closed in the mid 2010s as electronic trading made their function obsolete. Sitting, near empty, for years, the pits were disassembled in pieces and removed from the Board of Trade in the late summer of 2018. The corn pit, broken apart into 32 pieces, is now entering a purgatory of circulation and storage – a state maintained by the artists as they wear at the logics and histories sedimented in its bent, geometric, bones.
The abjection of the pit (and the bodies it housed) from the heights of finance suggests a profound break or discontinuity, but it would be more accurate to say that it reflects a steady acceleration and reinforcement of a centuries-old logic of dematerialization through abstraction, commodification, and financialization – an violent logic of bodily and material erasure that the pit itself once facilitated.
Like oddly intersecting angles of rotation,
Repose
embodies the hallucinatory qualities of knowledge that, anchored in abstractions, govern global logistics and colonial exploration.
Repose
, at the Arts Club, frames the artwork as evidentiary object, even as it lies in wait for a subject that may never show up.
[1] Rosalind Krauss. "Sculpture in the Expanded Field."
October
, vol. 8, 1979
---
Repose (screensaver)

2020

Marissa Lee Benedict, Daniel de Paula and David Rueter; comissioned by

The Arts Club of Chicago

The

Repose

screensaver takes as a point of departure data emitted by the container ship Peak Pegusus, as it sat anchored off the coast of China for over a month, waiting for resoluton of a trade war dispute. Slowly drawing circles around the axis of rotation formed by its tether to the seafloor, the screensaver drifts in and out of the ships static, circling path. The screensaver was installed on the work computers of the staff of The Arts Club of Chiago, which were used at home during COVID-19.

︎︎︎︎︎︎︎︎︎︎︎︎︎︎︎︎︎︎︎︎︎︎︎︎︎︎︎︎︎︎︎︎︎︎︎︎︎︎︎︎

Department of Water + Power
2019
Marissa Lee Benedict and David Rueter
Site-adapted installation at the Van Eyck Academie, Maastricht, NL (custom vertical blinds, copper and aluminum metal salts for humidity extraction, fiberglass, acetate sheet, linear actuators, steel, antislip pads, thermoplastics, brass pipe fittings, irrigation tubing, chromed steel supports, custom electronics, machine vision prototyping board, LEDs, battery, power cables, condensate evaporator, thermal sticker printer, sticker media, shelf edge LCD display, tripod, wireless weather station, weatherproof enclosure, LCD display, single-board computer, custom software, live data feed to Owens Lake environmental monitoring cameras).
---
Department of Water & Power
(2019) is a site-adapted installation: a network of water (liquid and vapor), collecting and spewing, in relation to data and images, as it inhabited the peripheral architectures (windows and exterior edges) of the public reception area of the Jan Van Eyck Academie. Extracting water from the air and processing data concerning the extracted drops (filming this liquid gold), this work tenuously negotiates subjects of
privatized water management
and
financial speculation
that encapsulate a future taking shape now.
The work consisted of custom 6-meter vertical blinds with sewn metals salt discs that extracted minuscule amounts of moisture from the air; moisture ran down the blinds at night to accumulate in thermoplastic basins on the sill; the basins drained into the academy basement, where each drop fell through a Bauhaus-esque "sconce camera" before hitting an evaporator to become steam (re-absorbed by visiting mouths and bodies and blinds); images of the drops wirelessly transmitted from the basement to a narrow display screen on the third floor; as each image appeared on the screen, a sticker spit out; stickers accumulated in drifts at the top of the stairwell for visitors to take they slid off the edge of the stairwell and fluttering back to the basement; and, outside, a weather station streamed images from dust cameras in Owens Valley, CA, US to the Netherlands
PROPOSAL IMAGES AND TEXT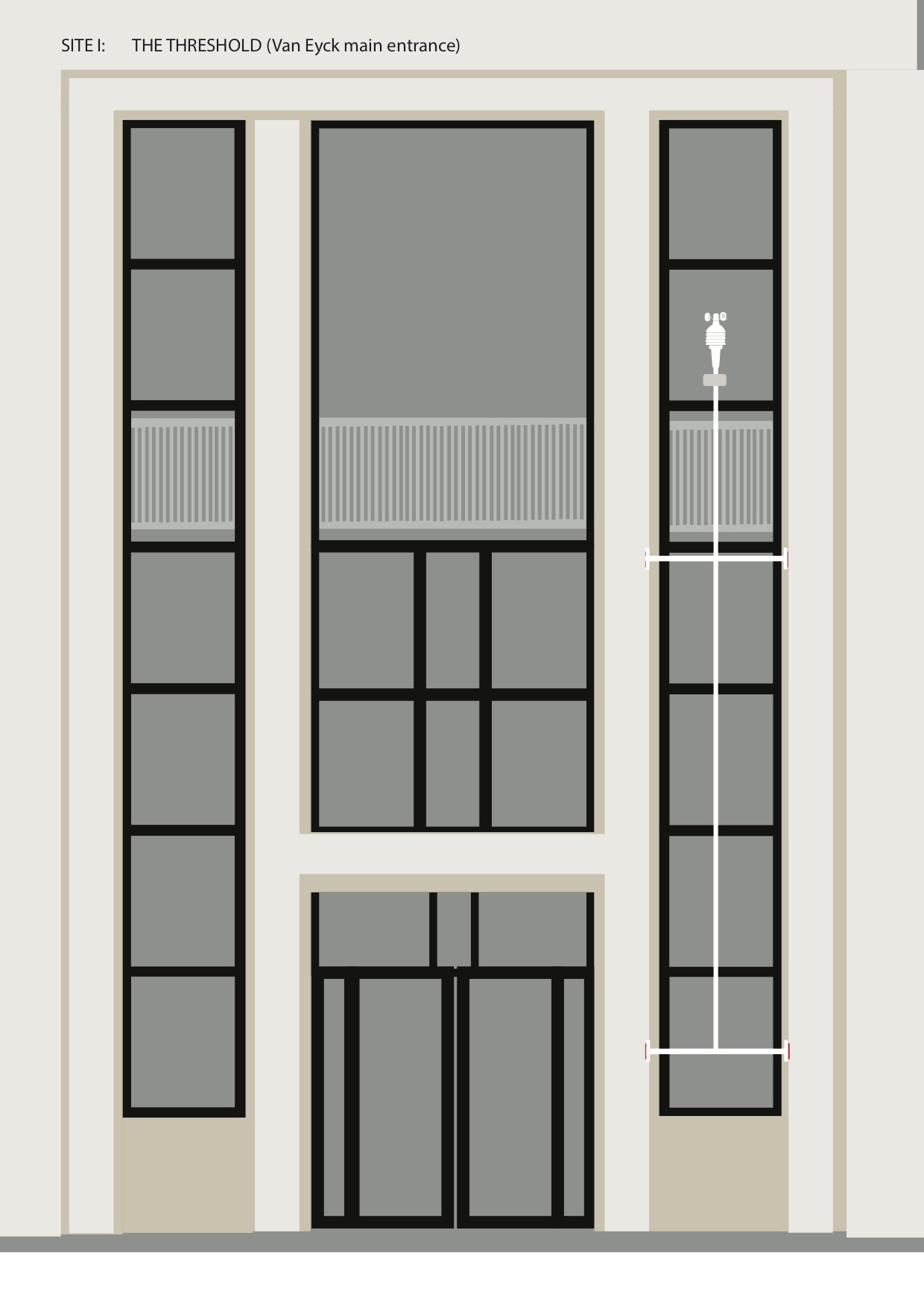 ︎︎︎︎︎︎︎︎︎︎︎︎︎︎︎︎︎︎︎︎︎︎︎︎︎︎︎︎︎︎︎︎︎︎︎︎︎︎︎︎


Dark Fiber

2014 – 2019
Marissa Lee Benedict and David Rueter
Single channel video installation
10:00 min looping (variable)
Video excerpt (2018 version, Venice, IT).
Full video link available on request.
Installation views from EXPO Chicago (September 2015), Dark Fiber at the Chicago Artists' Coalition (March 2015), and the
The Works: Artists In and From Chicago
at Contemporary Art Brussels (April 2015).
Companion pdf (Dark Fiber: a companion guide for interpreting internet infrastructures in the digital age, March 2015
; essays published or reproduced with permission by Ingrid Burrington for Creative Time Reports, CLUI, Lindsey french, and Cameron Hu).
---
"DRAW. In
A Thousand Plateaus
, to draw is an act of creation. What is drawn (the Body without Organs, the plane of consistency, a line of flight) does not preexist the act of drawing. The French word
tracer
captures this better: It has all the graphic connotations of "to draw" in English, but can also mean to blaze a trail or open a road. "To trace" (
decalquer
), on the other hand, is to copy something from a model."
Brian Massumi, "Notes on the Translation and Acknowledgements,"
A Thousand Plateaus: Capitalism and Schizophrenia, Gilles Deleuze and Felix Guattari
Viewers entering our video installation,
Dark Fiber
(2015-19), are greeted with a flowing montage of the artists digging, burying, pulling, and cutting a fiber-optic cable in the shadows of large-scale infrastructure. Locations such as the US/ Mexico border wall, Chicago-area refineries, and an Antwerp shipping canal segue into urban, then interior spaces, gradually reducing in scale and increasing in strangeness until a tiny specialized machine cuts a single strand of fiber. The exhibition site eventually appears on camera, inviting viewers to literally and uncannily connect the filmic industrial worlds with the installation space. The video, which inaugurated Benedict and Rueter's collaboration in 2014, has traveled to six exhibitions around the world, including the U.S. Pavilion Transit Screening Lounge for the 2018 Venice Architecture Biennale and Contemporary Art Brussels in 2015, with the final scenes of the piece re-shot and edited for each installation.
At the time of the work's conception (2014) a quick
Google image search for the phrase "internet infrastructure"
revealed little about the sites, materials, and labor of internet infrastructure. Searches instead retrieved a procession of tangled, blue-tinted node-link diagrams. The results for
"cloud computing"
were (and still are) even more optically jejune; one could reasonably think that the internet is simply carried along by a combination of blue icons, arrows, and boring magic.
In telecommunications industry jargon "dark fiber" is a term for unused, or "unlit" fiber optic cable. As of 2014, adding a few latent strands to a fiber rollout cost little compared to leasing land, negotiating rights-of-way, digging trenches, and sawing through city streets. Telecom companies frequently opted to overbuild capacity in anticipation of future demand. The demand for this capacity became, in many instances, superfluous with technologic leaps that paced increasing amounts of information into light wave frequencies. The latent, now surplus, cable became a real estate opportunity for a growing number of private companies to lease this unused fiber to create their own exclusive networks. "Dark fiber" commonly refers to these privately lit strands, which operate alongside, but in the shadows of, the public internet. Drawing (or tracing) from this context, questions of property, white settlement, fronterism, innovation, and vernacular material technologies of "progress" freight the video installation.
The node-link diagram, a mathematical abstraction that is now shorthand for the complexity of networked society, can obscure more than it reveals. Frame-by-frame,
Dark Fiber
traces a different approach to network representation, suggesting that one might instead draw a single line: one that hops between systems and scales, through vast landscapes, industrial infrastructure, media apparatuses, walls and conduits, lived space, and imagined worlds. The result is not an understanding delivered whole, but a subjective experience, one afforded by walking a path.
---
Special thanks to:
Meghan Moe Beitiks, Alex Benedict, Lindsey french, CLUI & Matt Coolidge, Pat Elifritz, Jeremiah Jones, Brian Lee, John & Patricia Lee, Adam Mansour, Juan Luis Olvera, Marc & Anne Rueter, Teresa Silva, Andy Tokarski; Ingrid Burrington & Creative Time Reports; Dieter Roelstraete, Abigail Winograd, and Eleonore de Sadeleer.
---
VIDEO STILLS


︎︎︎︎︎︎︎︎︎︎︎︎︎︎︎︎︎︎︎︎︎︎︎︎︎︎︎︎︎︎︎︎︎︎︎︎︎︎︎︎